I'm in Memphis today. I didn't make it here last night and I won't get into all of the details, but I was NOT a happy camper last night and most of this morning. But, I'm here now and had a great day of teaching yoga. After the workshop today I checked into my hotel, the Courtyard by Marriott on Kirby Pkwy. I'm not sure if all of the Courtyards are remodeling, but this one has recently remodeled some of their common areas and rooms. My room is GORGEOUS! It's got some real feng shui and beautiful design elements. The staff is very friendly and I would highly recommend coming to visit them if you're ever in Memphis. However, they are a little far from downtown where the Beale Street Music Festival is going on this weekend, so I will miss out on near misses with Kid Rock and Jerry Lee Lewis. My hotel is not that far from the Memphis Hunt and Polo Club where the English Princes William and Harry attended a friend's wedding today. There were no near misses with them either.
Really poorly taken photo of my hotel room that doesn't even remotely do it justice. This was the most soothing thing ever to look at before I got into bed and now I want it on my wall at home!
After checking in I finished off my mileage for the week. I logged a total of 25.2 miles for the week with a 2.54 mile run that stunk. I hated every step of it. I ran down the Mount Moriah Road Extension from my hotel and did just an out and back course. I felt rigid despite the yoga poses I taught today. My mind also felt rigid. I felt short of breath and uneven in my breathing. My feet were heavy and my shoes didn't support my landings. I was working on changing my stride, but my shoulders kept climbing toward my ears. I felt my elbow pits sweating and it was very uncomfortable. The back part of the run along Mt. Moriah left me pondering if I would come across a dead body on the side of the road. Overall, it was not a pleasant run. I wish I could have logged my run through the ATL airport this morning. I booked that run in flip flops carrying a breast pump with a backpack on my….go figure….back. That run was invigorating and exhilarating. My run tonight was slow (approximately 11:00 min/mi) and lonely. There were no kids to ask me questions, no stroller to push, no sweet smiles to look down at, no toys to catch, no wide turns. There was also no music as the Truffle Shuffle quit on me when I decided to turn him on. Truffle Shuffle is my ipod shuffle ….. not this: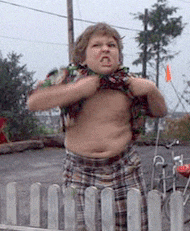 Although that's pretty much how I feel about the section of my body between the tops of my knees and the bottom of my bra line at the moment. It will get better.
After my run I came back here to wrestle with the pump some more and try to prevent another softball size milk duct from forming under my chest on this trip. And finally it was time for dinner. I try to get something special for myself each time I travel. Usually I go for Greek food or a local eatery that supports organic and sustainable companies. Since I am in Memphis, I had to try bbq this trip. Tonight I indulged in some comfort food. A little barbecue sandwich with sauce, no slaw; creamy mac n cheese; sweet tea, no ice; and hush puppies. The hush puppies were tasted, but not eaten. My dinner came from Corky's which came highly recommended by some of the travelers I met on my trip to Memphis. It was definitely a good choice to lift my mood and make me feel safe and warm when away from home. The other suggestion was Rendezvous, but Prince Harry was there today and I'm guessing that it was overloaded with business after that.
So, where does all of this fit in with my benchmarking and yoga? I completed my mileage today for the week and put myself on track for meeting one of my three benchmarks, but it was a bad run. In life there will always be bad and good, there will always be stress. It is how we perceive, approach, and meet that stress that determines if it is eustress (good stress) or distress (bad stress). I choose to look at this with a positive and fresh approach. In yoga we say that how you approach a yoga pose is reflective of how you approach life. I am definitely a glass half full kind of girl and I want to continue to be. I approach each new day and each new challenge with an open and loving heart. I will walk to my mat tomorrow morning with a clear and happy disposition, ready for my breath, ready for my life.
How do you approach your practice? Does it look something like how you approach your day to day activities and challenges? Is that the way you're happy with living? Are you in the moment or detached from the world around you?
Inhale the possibilities and exhale the doubt….Wax on; Wax off and Good night Memphis!